Our Halloween tour will take you to the birthplace of Dracula. Literally.
But it will also take you to his fortress at Poenari, the Gothic masterpiece of Hunedoara, and an amazing Halloween party in his castle at Bran.
This tour is put together to ensure you see the best of the region, and celebrate the history and legend of this great character. Both the real person who was loved by his people and feared by his enemies, and the fictional vampire of Bram Stoker's book. As well as being a Halloween tour this will also encompass all you might want to see in the area. You'll visit the stunning Transfagarasan Highway and the Carpathian Mountains, the cities of Brasov, Sibiu and Sighisoara. You will see and experience it all.
Dracula: [to Harker] 'Transylvania is not England. Our ways are not your ways. And to you there shall be many strange things.'
YOUR ITINERARY
Day 1 (27th Oct) – After landing into Bucharest airport you'll be transferred to the town of Snagov where you'll enjoy a late dinner and rest for the night. (D)
Day 2 (28th Oct) – In the morning you will visit the monastery at Snagov, situated on a small island in Snagov Lake. It is in this monastery that Vlad Tepes, the inspiration behind Bram Stoker's Dracula, is supposed to have been buried. A beautiful spot, full of many legends relating to Vlad.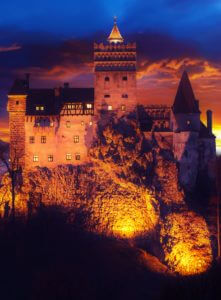 After leaving Snagov you'll head North towards the Carpathian Mountains and up to the small town of Bran, home to the legendary Bran Castle, often referred to as Dracula's Castle. It is believed that Bram Stoker used the image of Bran to describe the home of the vampire in his book. It is here that you will spend your evening at the annual Halloween party. You will  have access to the celebrations in the castle and the after-party in the grounds. The after-party takes place in a 400mp tent in the Royal Park and will go on late into the night. Parties in Romania are not known for ending early! (B, D)
Day 3 (29th Oct) – The following morning will be a late start and you'll have time to wander around Bran and explore the many Dracula themed stalls and shops in the vicinity.
You'll then carry on the Rasnov fortress, an important defensive position, with a commanding view of the surrounding area. With the Carpathians as a backdrop and 360 degree views from the top, the castle is full of the legends you'd expect from the area. You'll then head to Brasov, where you'll stay the evening exploring this wonderful town and it's many bars and restaurants. (B)
Day 4 (30th Oct) – Today you'll spend the whole day in Brasov and have the whole day to explore the city. There will be a walking tour of Brasov in the morning and you'll visit the imposing and Gothic Black Church. Perhaps you'll climb Mt Tampa for a view of the city, it can be reached by foot or cable car, maybe you'll rent a Segway for an hour or just find a bar in the Piata Sfatului square and people-watch. (B)
Day 5 (31st Oct) –In the morning you'll depart for Sighisoara,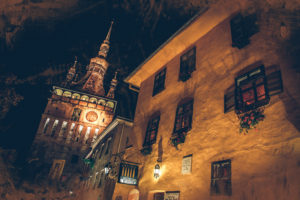 the World's last occupied medieval citadel, a UNESCO World Heritage Site and the birthplace of Vlad Tepes. There will be a walking tour in the afternoon, and in the evening you'll head to Casa Vlad Dracul, the house where Vlad was born, now a traditional restaurant where you will dine. As this evening is Halloween there is sure to be some vampiric entertainment. (B, D)
Day 6 (1st Nov) – Leaving Sighisoara behind, you'll head West across to Hunedoara and a visit to Corvin Castle. The largest castle you'll see on the tour, it is a Gothic-Renaissance masterpiece and a wonderfully creepy place to visit. (B)
Day 7 (2nd Nov) – You'll have an early start the following morning as you travel across the Carpathian Mountains along the Transfagarasan Highway, regarded as one of the best driving roads in the World (at least, that's what Top Gear called it).
You'll travel across the mountains and South to Poenari, the ruins of a castle once fortified by Vlad himself. Th
is castle is where Vlad's first wife committed suicide by jumping from the walls for fear of being captured by the invading Turks. The fortress lays high on a hillside and is reached by 1,480 steps, well worth the effort for the rewarding view from the top though. After returning back to road-level you'll be taken to your nearby hotel for the night. (B, L)
Day 8 (3rd Nov) – Your final day in Romania will be spent in Bucharest and feature a visit to Curtea Vechem (or Old Princely Court), which was built as a palace for Vlad in 1459. You'll spend your last evening walking around the old town and it's range of bars, cafes and restaurants. The perfect place to toast goodbye to this beautiful and dark land. (B)
Day 9 (4th Nov) - With a heavy heart, your tour will come to an end and you will return to Bucharest airport for you flight home. (B)
WHAT'S INCLUDED
*Return scheduled flights from Heathrow
*8 nights in hotels chosen for location, quality and experience
*Special Halloween party
*8 Breakfasts (B), 1 Lunch (L) & 2 Dinners (D)
*All transportation in air-conditioned minibus
*Entrance fees to all attractions visited
*The services of a tour guide at all times
HIGHLIGHTS OF YOUR TOUR
DATES & PRICES
*27th October 2017 - Spaces Available
All dates are £979.00 per person
based on UK departures
Prices above are per person in pounds sterling (£), based on two people sharing a twin-room. The prices which were valid at the time of publication, may be subject to change, particularly as a result of variable flight costs. You will be informed of any such changes prior to booking.
All tours are available excluding flights for our US and European clients who wish to join us in Bucharest:
€994 / $1109 pp