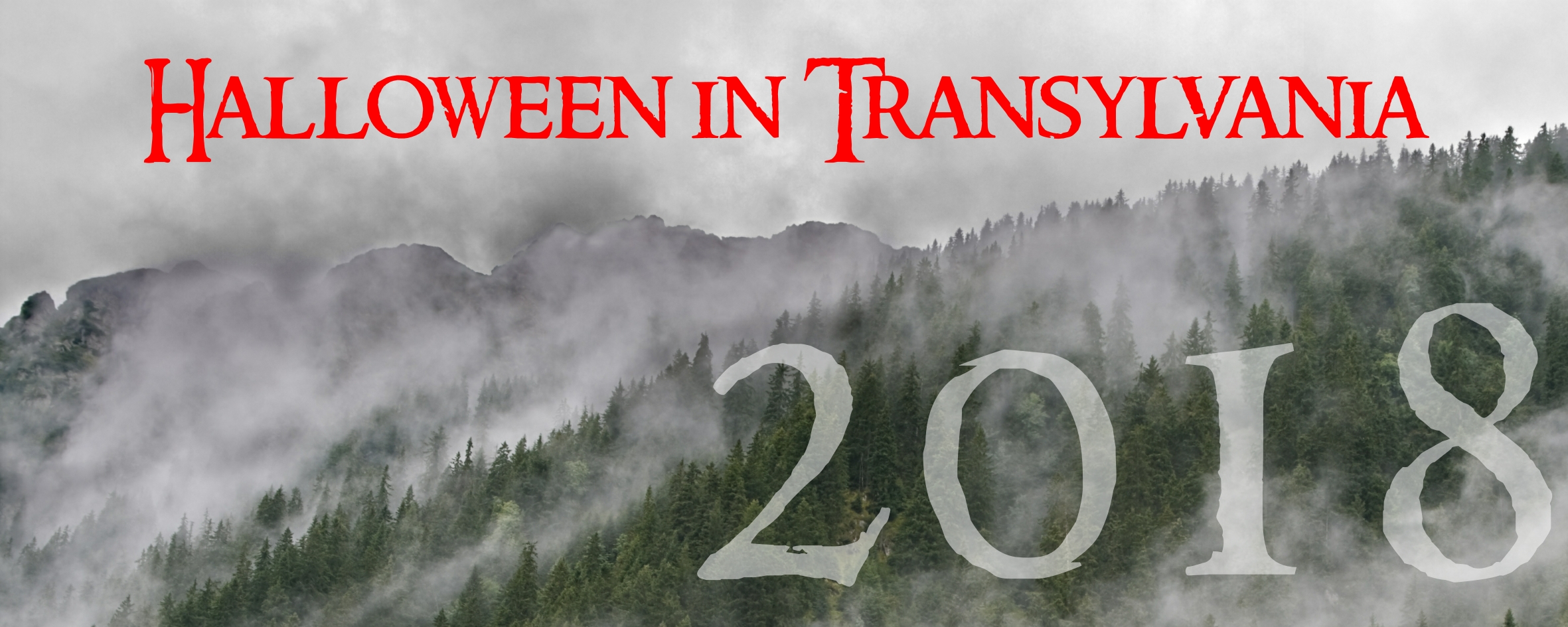 Halloween. Transylvania. Two words that are inextricably linked.
Naturally the legend of Dracula and the history of the real Vlad Tepes has a great deal to do with this. But I think it goes deeper than that. Transylvania is a land that feels under the threat of darkness in the Autumn months. The colour drains from the forests, the grey of the mountains deepens, and the mist that hangs over the valleys brings an ominous feeling of dark forces at work. It is a land of superstition and folklore, where history and legend create a region perfectly suited to the darkest of festivals.
And so, our Halloween tour looks to combine the history and cultural elements of our other tours with the atmosphere of a Halloween party. There will be tour of medieval castles and history lessons along the way, whilst partying until dawn at the classic Bran Castle and spending Halloween itself in the birthplace of Vlad himself.
It'll be a Halloween you'll never forget.
Dracula:

'Transylvania is not England. Our ways are not your ways. And to you there shall be many strange things.'
ROUTE MAP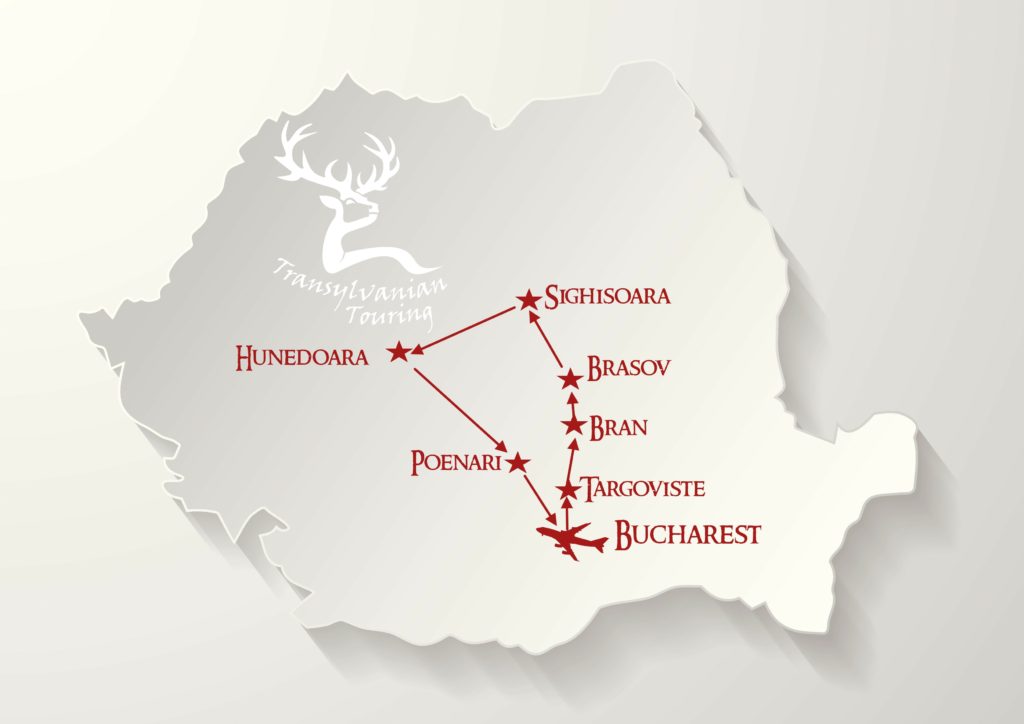 YOUR ITINERARY
Day 1 – Fri 26th Oct - Your guide will meet you at Bucharest airport and you'll head straight off to Targoviste. Home of the Chindia Tower and Vlad Tepes' Princely Court. (D)
Day 2 – Sat 27th Oct - After leaving Targoviste you'll head North towards the Carpathian Mountains and up to the small town of Bran, home to the legendary Bran Castle, often referred to as Dracula's Castle. It is believed that Bram Stoker used the image of Bran to describe the home of the vampire in his book. It is here that you will spend your evening at the annual Halloween party. You'll spend the evening at Bran Castle, experiencing a horror tour of the castle and a party until dawn. For the over-18s only I'm afraid! (B)
Day 3 – Sun 28th Oct - Definitely the day for a late start… in the afternoon you'll move on to the town of Brasov, where you'll stay the evening exploring this wonderful town and it's many bars and restaurants. (B)
Day 4 – Mon 29th Oct - Romania is home to some 5000 bears, you'll get to see some of them at the Libearty bear sanctuary. You'll also enjoy a tour of Rasnov citadel on the way. An important defensive position, with a commanding view of the surrounding area. With the Carpathians as a backdrop and 360 degree views from the top, the castle is full of the legends you'd expect from the area. (B)
Day 5 – Tues 30th Oct - In the morning you'll depart for Sighisoara, the World's last occupied medieval citadel, a UNESCO World Heritage Site and the birthplace of Vlad Tepes. (B)
Day 6 – Wed 31st Oct - Depart on the way to Hunedoara, where you'll enjoy a Halloween party in one of the most wonderful Gothic castles in Europe. The 15th Century Corvin Castle will be the most spectacular and memorable place to celebrate your Halloween night. As soon as you pass the entrance gate you'll be in a medieval world and get ready to experience dinner with Romanian cuisine, live medieval and Romanian folk music and dancers.
At midnight Count Dracula will invite you to his wedding. To decline is not acceptable. Participate to a special show and then party. But remember, it is Halloween and Hunyad's Castle is one of the most haunted places in Europe, a place where nobody dare to spend the night alone. So the ghosts and spirits may join you during the night. Don't get lost in the castle, don't go behind the locked doors…  (B,D)
Day 7 – Thurs 1st Nov - Leaving Hunedoara, you'll travel to Sibiu and visit the Old Town, full of medieval squares, walls and towers. You'll have some time at leisure to soak up the atmosphere or just do a little shopping. (B)
Day 8 – Fri 2nd Nov - You'll have an early start the following morning as you travel across the Carpathian Mountains along the Transfagarasan Highway and South to Poenari, the ruins of a castle once fortified by Vlad himself. This castle is where Vlad's first wife committed suicide by jumping from the walls for fear of being captured by the invading Turks. The fortress lays high on a hillside and is reached by 1,480 steps, well worth the effort for the rewarding view from the top though. After returning back to road-level you'll be taken to your nearby hotel for the night. (B)
Day 9 – Sat 3rd Nov - You'll head to Bucharest and feature a visit to Curtea Vechem (or Old Princely Court), which was built as a palace for Vlad in 1459. You'll spend your last evening walking around the old town and it's range of bars, cafes and restaurants. The perfect place to toast goodbye to this beautiful and dark land. (B)
Day 10 – Sun 4th Nov - With a heavy heart, your driver will take you back to the airport for your journey home. (B)
WHAT'S INCLUDED
*Return scheduled flights from Heathrow
*9 nights in hotels chosen for location, quality and experience
*9 Breakfasts (B) & 2 Dinners (D)
*All transportation in air-conditioned minibus
*Entrance fees to all attractions visited
*The services of a tour guide at all times
*Special Halloween party at Bran Castle & NOW AN EXCLUSIVE HALLOWEEN EVENT IN CORVIN CASTLE!

DATES & PRICES
*26th October 2018 -

Spaces Available
Tour only - £899 pp
Tour inc flights from London Heathrow - £1099 pp
Regional departures are also available
Single Room Supplement £180
Deposit £100pp - Balance will be due by 3rd August 2018
Prices above are per person in pounds sterling (£), based on two people sharing a twin-room. The prices which were valid at the time of publication, may be subject to change, particularly as a result of variable flight costs. You will be informed of any such changes prior to booking.
For those taking the tour only, you will need to ensure you are able to meet with the group at Otopeni airport at 16:00 on the 26th Oct. If you are taking international flights you may need to arrive the previous day. We can help with local accommodation should you need it, please let us know if we can provide any assistance with your travel arrangements.